Medics.Academy is an online platform which provides technology enhanced learning solutions for organisations and individuals.
We have created training packages to meet the learning needs of healthcare professionals. We also provide education consultancy and tailor made solutions for organisations. Our training solutions enable organisations to deliver high quality training in a more cost-effective and time efficient manner.
We have created an extensive and ever-growing library of world-class material. All of our courses are video based and designed to maximise learner experience and engagement. The teaching platform allows organisations to track the progress of doctors, nurses, and other healthcare professionals.
Extensive Training Library
We provide an extensive collection of training packages for healthcare professionals. Our teaching packages are tailored to training programme curricula. Our library of courses covers a vast expanse of topics essential for CPD.
Our training packages include:

• Foundation Programme (F|Docs)
• General Practice
• The Wiley 'At a Glance' Series
• Hospital Induction
• Paramedic Medicine
• World Extreme Medicine
Contact us
Bespoke Training Solutions
Having developed the systems and skill sets necessary to produce world-class quality video content, we also provide education consultancy and bespoke training solutions.
For example it was difficult and time consuming to train midwives in perineal repair at Bart's Health. Our technology enhanced solution produced a 60% cost saving and 50% efficiency saving which allowed midwives to spend more time caring for patients. We also increased the number of midwives trained in perineal repair from 5% to 50% within 6 months.
We also provide content conversion. Wiley have recently partnered with Medics.Academy to turn their renowned 'At a Glance' medical textbook series into engaging Medics.Academy content.
Contact us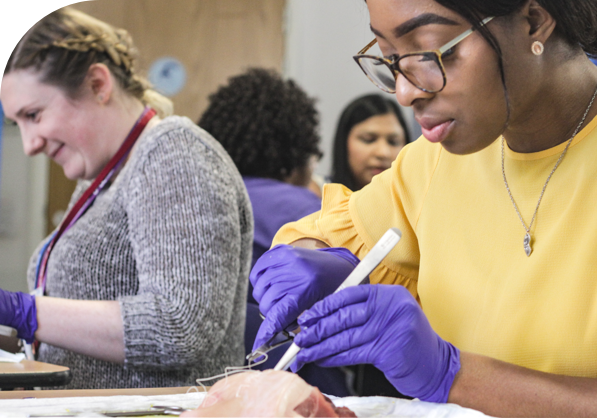 Training Platform & Dashboard
It's not just training material that we provide. Our platform allows organisations to host content, issue exams and track training compliance. This solution has proved invaluable for ensuring GP trainees receive the training they need.
Contact us
'We are striving to change the shape of online healthcare education and lead it into the future.'
Dr Johann Malawana
Chief Executive Officer
National leadership roles in healthcare for 15 years and board-level experience.